Homes for Sale in Naples Quail West
Homes for sale in Naples Quail West include luxury villas, estates and custom-constructed single-family homes. Prices typically start from the upper $700s to more than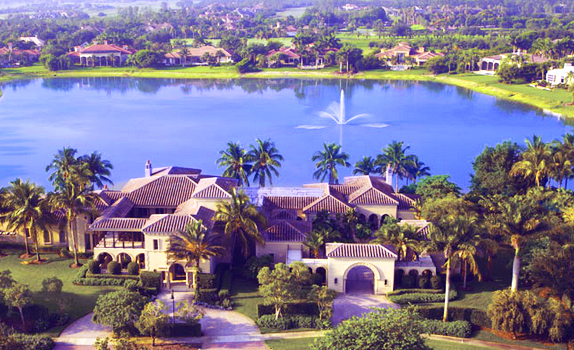 $3million. Buyers have many options in floor plans among homes for sale in Naples Quail West, but be assured each home has been constructed with lavish attention-to-detail in architectural standards that not only impart aesthetic allure and livability, but sophisticated structural integrity. Home owners will enjoy views of the sparkling lakes, green preserves and championship golf courses that collectively contribute to the beauty of this gated-community. Yet, for all the natural splendor of the environment here, the architectural quality of the homes simply adds to the appeal.
Award-Winning Builders
Quail West has emerged through a collaboration between some of America's most respected home builders. The advancement of this private neighborhood was largely compelled by the visionary enterprise of Stock Development Company who acquired lots from a former Orlando-based developer. The master developers at Stock are the same craftsmen who've produced homes in some of Southwest Florida's most sought after of neighborhoods. From their work at Naples' Esplanade Golf & Country Club and Lantana at Olde Cypress, to neighborhoods within Bonita Bay, Fiddler's Creek and Grey Oaks, Stock Development has been honored with more than 500 building industry honors. Locally, the firm has earned 21 Sand Dollar Awards by the Collier Building Association as well as 19 Pinnacle Awards from the Lee Building Industry Association, but the company is also esteemed as one of Top 100 Builders in America. Yet, there are many homes for sale in Naples Quail West that were produced by other nationally recognized builders. McGarvey Custom Homes, London Bay Homes, Fox Custom Builders and Diamond Custom Homes are among the other expert residential construction firms who've elevated the architectural landscape of homes for sale in Naples Quail West.
Exceptional Re-Sale Homes & New Construction
The vast majority of homes in Quail West have only been built within the last ten years. At the same time, the community continues to grow as new homes are being constructed. Buyers can find great deals on resales as well as attractive incentives on new construction. For insight on home designs and location within Quail West, select the appropriate neighborhood in the drop down section beneath the "New Construction" tab on the website menu, or click the appropriate link below.
Single-family homes priced from $900s to $1,194,990
Luxury villas priced from the $800s
McGarvey Custom villas priced from $900s to more than $1.1 million.
Single-family homes in a range of designs, priced from $800s to more than $1million.
Estate homes by Stock Development, priced from more than $1million
Varied designs in single-family homes priced from $900s to more than $1.2mill.